Triumph TR3A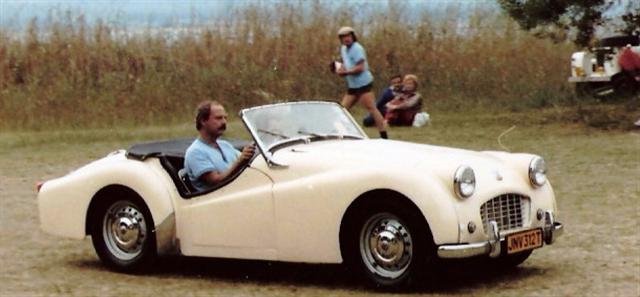 The car in 1984
I have been a member of the TSCC since 1974,  initially in Cape Town, a short year in Durban and quite some time in Johannesburg before returning home in 2007. I have owned this car for more than 37 years, and it has been a part of my history. It was built back in the early 80's from the scrap of 2 cars as a TR3. It has been driven to 6 National Gatherings, and was awarded several best in class de Etat sidescreen TR in the 80's.  A serious engine imbalance led to the car being stripped for a second restoration but it languished for about 10 years. During a work sojourn in Botswana a full chassis up restoration was commenced and good progress made, before I had to work offshore again and it stood for another 5 years. It is now being restored to what it originally was- a TR 3A. The production records show that job TR 842 left the works in July 1958 with a factory hardtop. My records show that the car was first registered in 1959. It was originally a cream colour with brown trim, but it is being restored in two tone white and red - the same as the first TR3 with which I fell in love in 1963.
The restoration was completed in October 2008.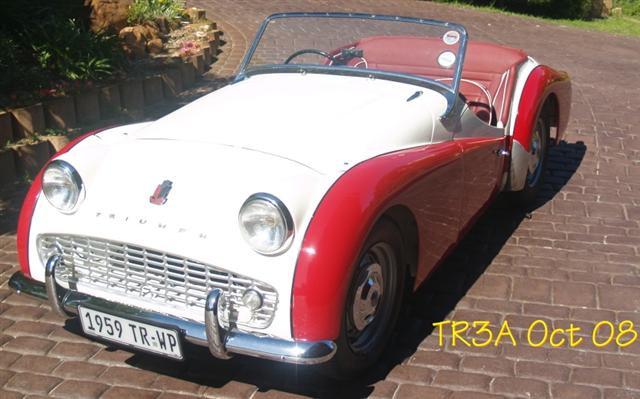 Completed ahead of the estimated end of 2008
This TR3A has won Gold Medals in Concours at the 2102 National Gathering and in our local annual concours. The car is used regularly and continues to be an important part of my life.