Triumph Herald Convertible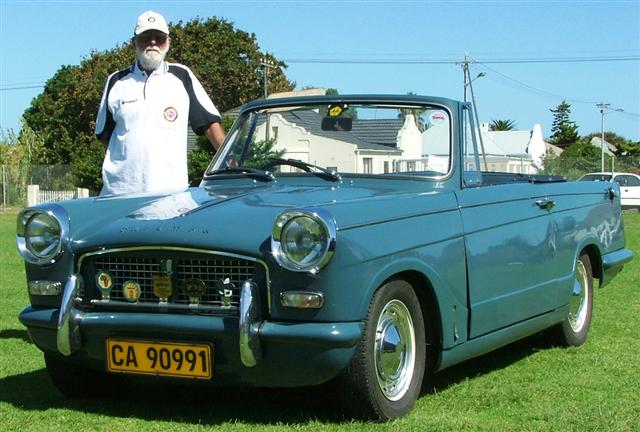 2006 Nationals - Hermanus
Dave's Herald convertible is commonly known as 'Bushpig'. He even has a miniture bushpig mounted on the dash.
The only modification done to the car is that it is fitted with a 5-speed Toyota gearbox for better gearing, otherwise the car is original.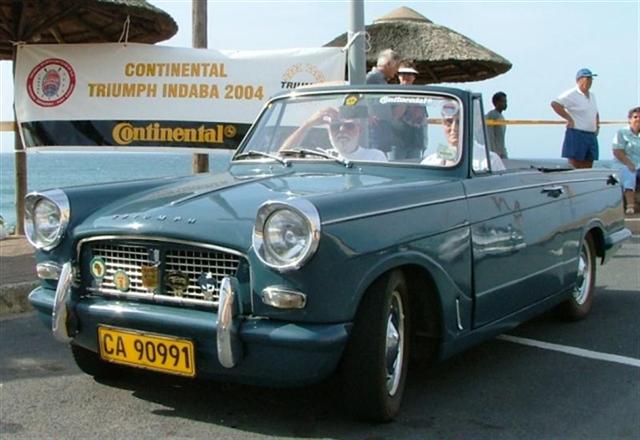 'Bushpig' on the way to the beachfront concours in Margate
(2004 Nationals - Port Edward)
While working in the garage the other day, to stay out of trouble, I took a breather, Bushpig was to the one side and I cast a glance over him and noticed how age is starting to take its toll, one of the reasons I don't look into mirrors. The paint work has taken a severe beating Duco 300 was never made to handle the heat of today's sun not to mention the scratches and scrapes, a thought flashed thru the command centre-  "A make-over would improve things greatly" the next flash, why?
We are both living on bonus time, why not let things run their course, Bushpig has been on the go for 48 years now why not just carry on until we fade off the scene just keep our vital bits in good shape and just enjoy the time together. Another flash 2015 equates to 20 years on pension, my my, but time seems to be galloping on.
Way, way back in the year 1967 on February 1st to be exact one Miss Pamela Norman drove away from the showroom floor of Standard – Triumph UK. sales limited (Leyland) in spanking brand new grey Triumph Herald 1200 convertible after laying down the princely sum of five hundred and thirty six pounds, zero shillings and six pence ( GBP536.0.6d). Extras included such items as a heater, disc brakes up front, wing mirrors, leather upholstery and anti-freeze.
The Heralds first years were spent in a place called Sunbury-upon-Thames in Surrey, then from that rather grey country it was on to the beautiful country of Switzerland, how long we are not sure and then the final move to a then better country, South Africa, the Cape Province and the coastal town of Hermanus.
It happened on the 9th of April 1996 that the grey Herald changed hands for the first time and moved to the Milnerton area, where a complete strip down and refurbishing took place and then the final move to Brackenfell. So from that date we have been together 19 years with many ups and downs along the way, there have been many more ups than downs, not to mention the sideways movements.
It was during the time of that great learned and respected EDDY –TOR of the local newsletter that the grey Herald was christened 'Bushpig', because of his temerity. If he behaved the same with Miss Pamela Norman I don't know;  incidentally quite a few years back at one of the Whales and Wheels shows we attended Miss Pamela Norman came looking to see if the grey Herald would be there, we had a good chat and she said that she was happy with what she saw and went away contented, sadly that was the last time we met.
Pride of place in my study is a beautiful hand carved model presented to him when Bushpig put a British reader of the then Triumph World Magazine in his place for his negative views on the Herald. And lastly a plaque stating second in class D' Elegance at one of the Nationals, there were only two in that category, the other one is around somewhere.
Bushpig has travelled many winding and long roads and attended 4 National Gatherings without any hiccups. Hartbeespoort and Golden Gate were under the control of a single Solex carburettor. The Globe. Port Edward and Stormsriver were under the control of twin SU's, which provided more power and at the same time drank more juice. Another National Gathering? We will leave that hanging for now, but the possibility is there and on what my friend SASSA is prepared to give me. There are many things we could talk about like the time we beat a BMW when the lights turned green. Then again driving today is more of a hassle not a pleasure, when you have these speed nuts breathing down your exhaust or cutting in front, not ever thinking that the stopping power in the oldie, by an oldie is not that sharp.
Will we part company? No, that will only happen when one of us fades from the scene.