Triumph Herald Coupe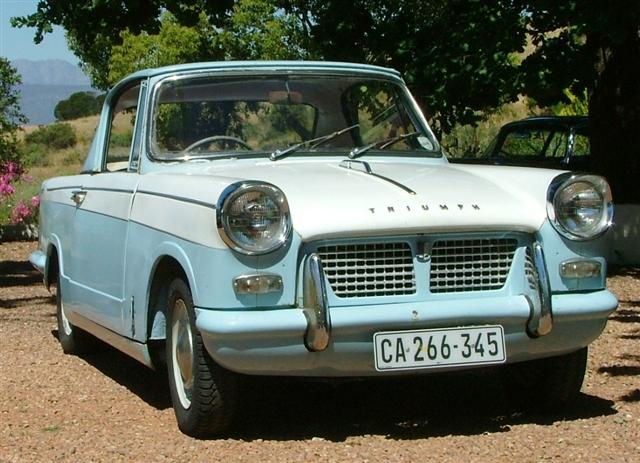 British Sports Car Tour 2008 - Riebeek Kasteel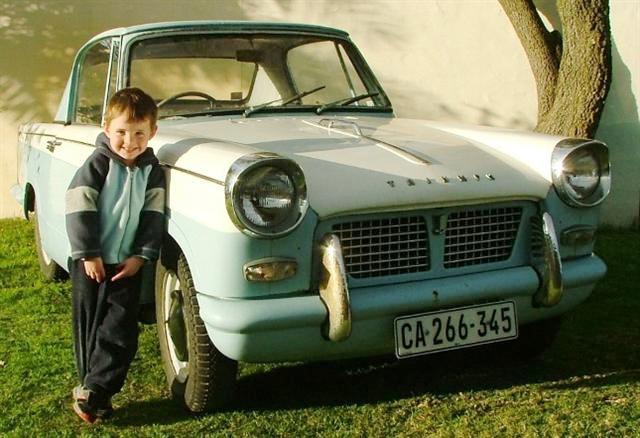 Keegan with the 1959 Herald Coupe
(October 2008)
The car is a 1959 Herald Coupe with the original 948cc motor.
The car was originally bought and owned by someone in Oudtshoorn. After many years, the then elderly man decided to sell the car. The car was then purchased by Rudi Venter, a TSCC member, on spec and was about to be sold to a young student as a 'first car'. The car was rescued from the clutches of the student, who would no doubt have driven it to a 'sudden death', by Chris Schultz. Chris initially bought the car as a runabout, but due to various mechanical issues the car was eventaually laid up, and although repaired, the car had been standing for some time.
With Chris no longer able to drive, he decided to dispose of his fleet of Triumphs, and not wanting the car to fall into the wrong hands, he very kindly donated the car (that's just the way he is, one of a kind!!).
Keegan says - I love this car, because I can see out through all the windows, not like when I'm in my mothers car (all I see then is the back of the front seats). For now, either my dad or granddad will be driving the car, but only until I am eligible to get a drivers licence.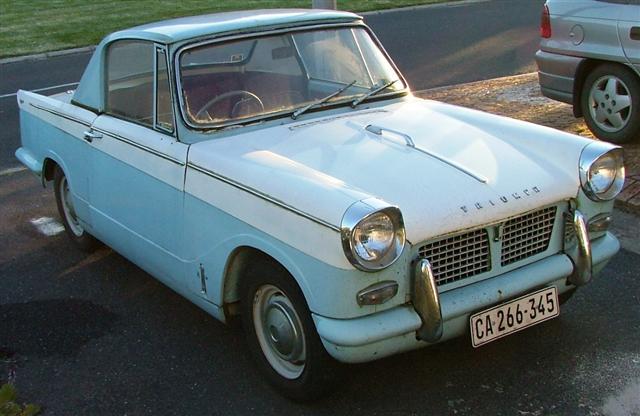 Just arrived home, about to get a wash
(5 October 2008)
The car was driven to East London (approx 1000km from Cape Town) during April 2009 by my grandad without any problems being experienced on the way, although granddad did report that there was an annoying vibration. The vibration was found to be caused by the exhaust touching on a bracket which was put in place previously as a safety measure should the propshaft come loose.
My granddad intends to restore the car and also get it through the roadworthy test.