Triumph Herald
Ricky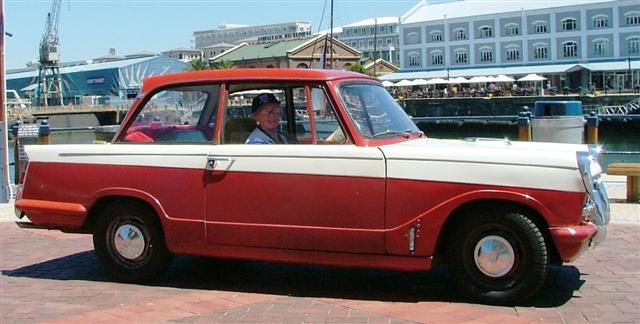 V & A Waterfront
(British Sports Car Tour 2004)
I won him in a competition sponsored by a now defunct Coffee Company.
There were 3 Heralds to be won and I was number 2. I think the other two went to P.E. and Kimberley. Needless to say, I was thrilled, and on top of that I also got £130 (a lot of money in those days). "Ricky" was selling at £685 if I had had to pay for him. I went to Welsh Motors in Strand Street to choose my colour and model. I did not like the rather wishy-washy pale blue or pale yellow, and black was too old for me then, so red it was and I have never regretted that choice. Being a practical young girl I chose a saloon so that I could take my parents out for drives, but in retrospect I wish I had chosen a coupe as I much prefer them. (Older members will remember Sam Steenkamp's lovely black and white coupe of a few years ago). To this day I can still vividly remember the incredible thrill of driving my brand-new gleaming Herald from Town to Sunnycove where my parents lived! However, to obtain the keys of the car I had to go through a ghastly ordeal in that they were presented to me on the stage of the Colosseum Cinema in lower St. George's Street (where Clicks now stands). It seated hundreds of people and as there was a popular British comedy on at the time, it was packed. There were several men on the sage with me from the Coffee Company, cinema manager etc. and they were all shorter than I! I stumbled through a very short thank-you speech with the terrible glare of the spotlights on me, and was shaking all over. The Coffee Company manager and I dashed afterwards to the Carlton Hotel on the next corner to have 2 quick double-gins after that as we both needed them!! Shortly after I took possession I drove to P.E. to meet a boyfriend who was on the maiden voyage of the "Windsor Castle";, and "Ricky" behaved beautifully although he was barely run in.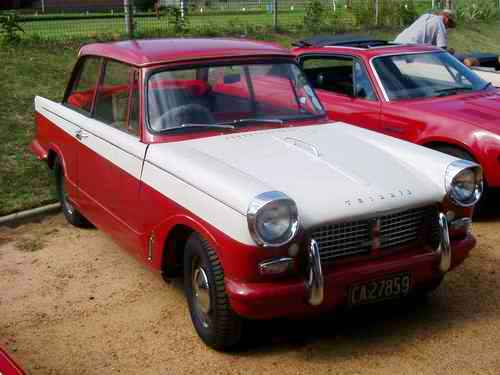 Today I am a very ordinary person with the humblest little car in the Triumph stable, but I bet no-one else has WON their Triumph, so at least I am unique in that respect! To conclude, "Ricky" has been a wonderful car giving me relatively little trouble in all this time, and even were I to win the Lotto and could buy any car I wanted, "Ricky" will always be the most beautiful car in the world to my loving eyes.