Macau Spitfire (replica)
Having first being made aware, around 2000, of the Macau Spitfire's existence in a Rimmer's catalogue, I searched the Internet high and low looking for specifications, pictures or any other form of information on the car. It is only recently, with the acquisition of the original car by Canley Classics that information of any real value has come to light. However none of this information was available around 2001/2 when, inspired by Club members Ashley Ellis and Neil Cameron (TR6 and Triumph Chicane), I decided to build a "replica" of the Macau, in six cylinder spec, and join them at our local race track competing in the Classic Car section.
It must be stressed that no attempt was made to replicate the original car to the nth degree; the only requirement was that, from a distance (the further the better) the car would bear a passing similarity to the legendary original. The first order of business was to acquire a suitable donor car and at this point one of our real "character" members, Graham Johnson, who was and still remains a keen supporter and encourager despite his relocation to Australia in 2003, just happened to have a less than perfect Spitfire Mk.II for sale. I had already decided that the car would be fitted with a 2.5 litre Chicane (a version of the Triumph 2500 that was only ever made in South Africa) motor with overdrive gearbox and, seeing that we were attempting the impossible, a Chicane diff.
To this end a very rusted and tatty Chicane was purchased which, despite its forlorn appearance, was mechanically sound. The entire construction would have been that much simpler if GT6 or Vitesse drive trains could have been used, but here in South Africa access to these parts is nigh impossible. Details of the work required to fit the Chicane parts to the Spitfire chassis/body would fill this entire website, but the salient modifications can be found under the specifications list. At this point I need to thank Andy Haw of Sports Car Supplies for valued information and the supply of new and used parts that were used in the construction of the car.
For the rest I will let the pictures tell the story.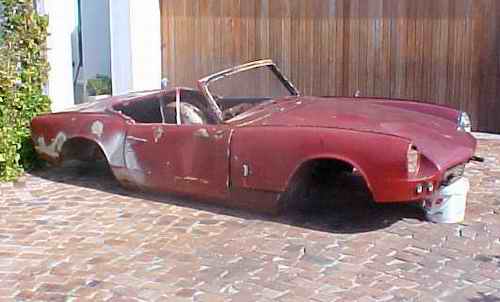 Original body removed from chassis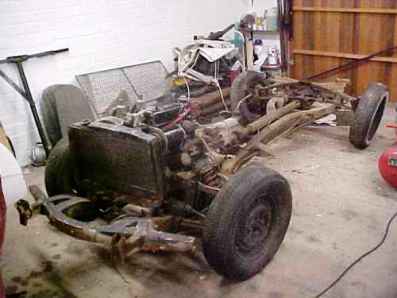 Original chassis and running gear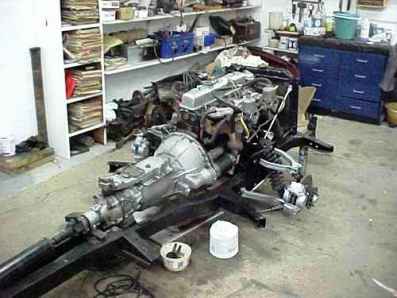 Chicane drivetrain succesfully fitted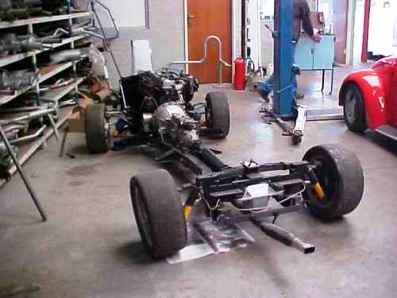 Rear picture of drive train. Note Chicane diff at rear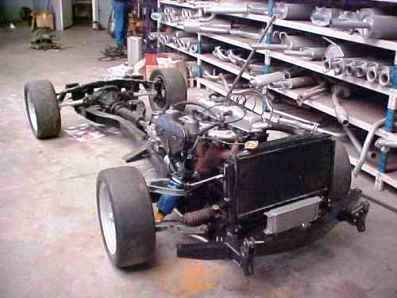 Front view showing oil cooler, Spax ride/height shocks and competition springs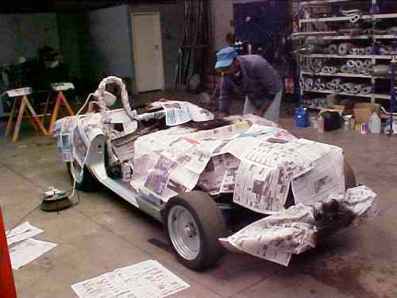 Spraying operations underway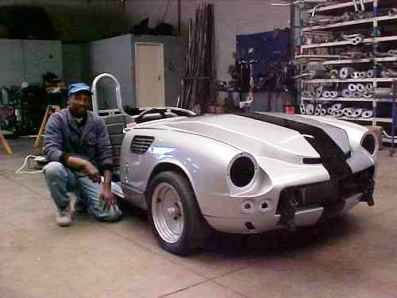 Ronnie the spray painter with partially assembled car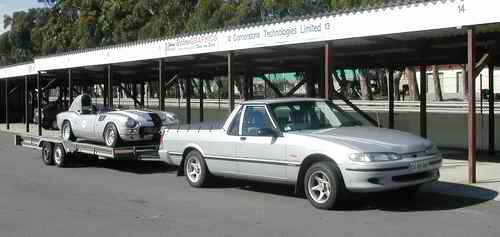 The completed article arrives at racetrack for its maiden outing
Specifications:
Vehicle: 1965 Spitfire Mk.II
Windscreen replaced by full width Perspex aero screen, all other glass removed.
Bonnet modified with sheet metal bulge and air vents.
Hump behind driver done in fibreglass.
Purpose made gearbox cover (aluminium), roll bar and racing seat with 4 point harness.
Engine: 2500cc six cylinders, twin 1.75 SU's, oil cooler, otherwise standard at this point.
Gearbox: Chicane manual. "J" type --overdrive on 3rd and 4th gears.
Diff: Chicane, "locked". Ratio 3.45 to 1.
Cooling: Spitfire Mk11 radiator triple cored with continental pattern, electric cooling fan.
Brakes: Front: GT6 callipers and rotors with GT6 master cylinder.
Rear: Standard, with harder friction linings. Goodridge stainless steel flexible hoses all round.
Suspension: Front: standard, except for GT6 hubs/bearings. Set at 1.5 degrees negative camber and zero toe in. GT6 Spax ride/height adjustable gas shocks and competition springs. Polyurethane bushes used throughout.
Rear: Stiffened and de-arched rear spring. 3 degrees negative camber and .7mm toe in. Spax adjustable gas shocks. Adjustable radius arms, modified drive shafts. Polyurethane bushes.
Rims/ tyres: Widened steel wheels. 6" slicks @ front, 7"@ rear.
Fuel tank: 20litre, electric fuel pump.
Updated specs as of April 2004:
Engine: 1.75" SU's replaced by 2" SU's
Cylinder head skimmed 1.5mm, gas flowed and ported.
Camshaft reground to TR5 specifications.
Flywheel lightened by 3.5 kg.
Crankshaft, con rods, pistons etc balanced.
Cooling system: Radiator replaced by sealed cooling system incorporating a larger capacity aluminium radiator from Golf LDV
Update - February 2005
The 2004 racing season was always going to be a test and development season, for both car and driver, the aim of which was to seriously contest the 2005 season with a car that, hopefully, had been fully sorted. Despite this, the end of the 2004 season saw the Macau replica finish a creditable 3rd in the marque/ fine car championship (based upon index of performance). It also finished 15th overall in the Classic Car Championship (Scratch races run in classes). Despite some teething problems, which included a spell of 3 wheel driving, compliments of a left rear wheel which went AWOL during a race, the cars lap times improved from a "best" of 1'44'' in February to a more respectable 1' 33.6'' later in the year. Both of which are a vast improvement on the 1'58" of its maiden test run in August 2003. I had entertained high hopes of cracking the 1' 30" barrier during the 2005 season as the car is still only in a mild state of tune and runs on 13" semi-slick rather than full slick racing tyres.
Then, in October of 2004, the race organizers dropped their bombshell: The revised 2005 race regulations no longer make provision for open top cars and the Classic Car Championship is now only open to "tin top" cars. On this sorry note the car's racing career has come to an abrupt end!! My disappointment at this turn of events is difficult to describe as; apart from the enjoyment of racing the car, the ongoing development and performance improvements have been a source of much pleasure and personal satisfaction. The Macau replica has been granted permission to enter the Marque/ fine car event scheduled for the 5th February, when the David Piper Historic Race Week End takes place, and this, undoubtedly, will be its racing swansong. After that it will be converted, pretty much "as is", into an impractical but incredibly exciting street legal road car. Thanks to everybody concerned for his or her support and encouragement in 2004 - it was very much appreciated.
The Macau on show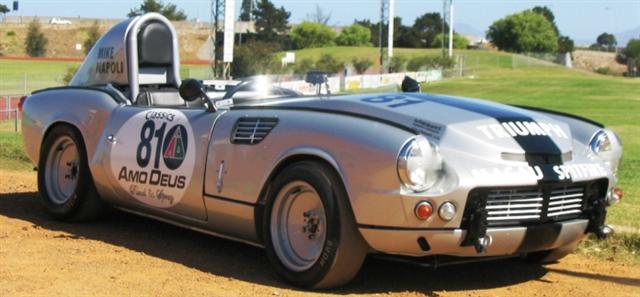 (AGM concours - 2004)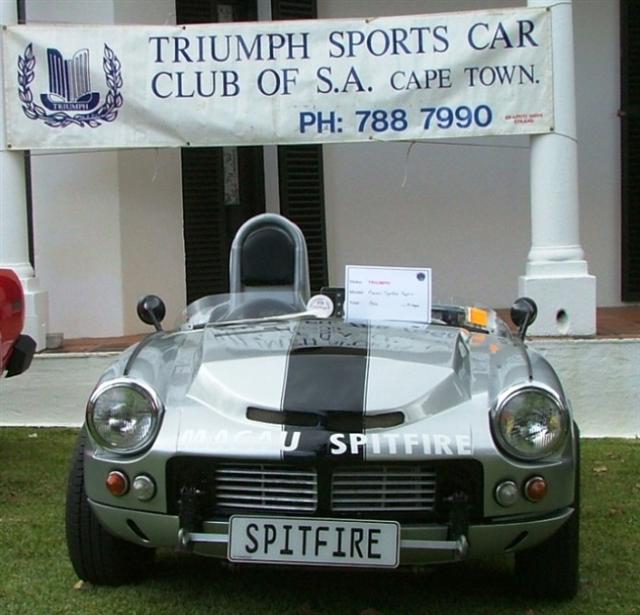 (Timour Hall - 2005)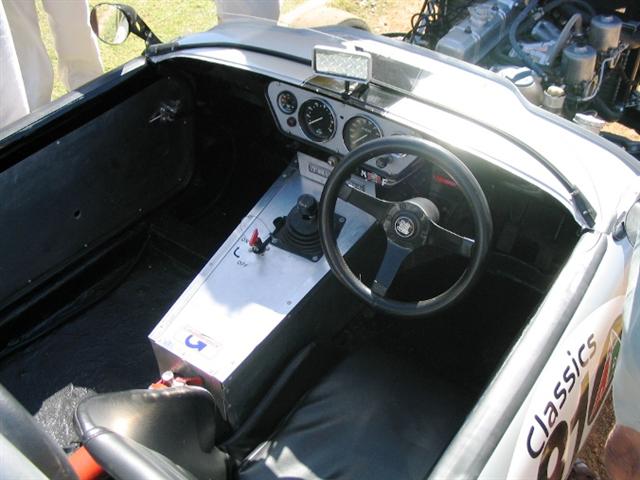 Inside the Macau
The MACAU goes racing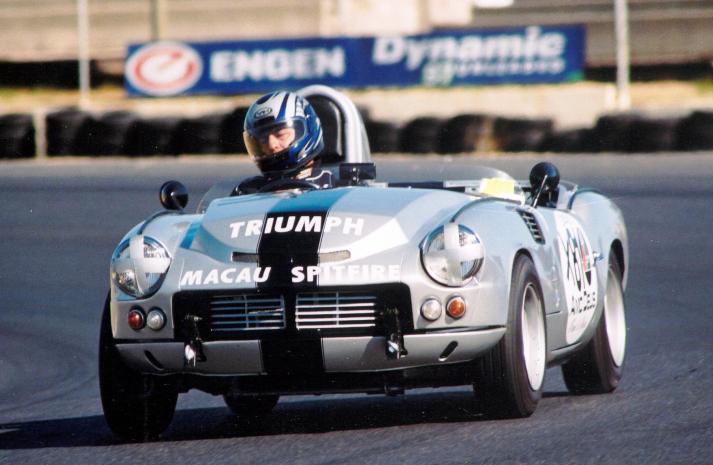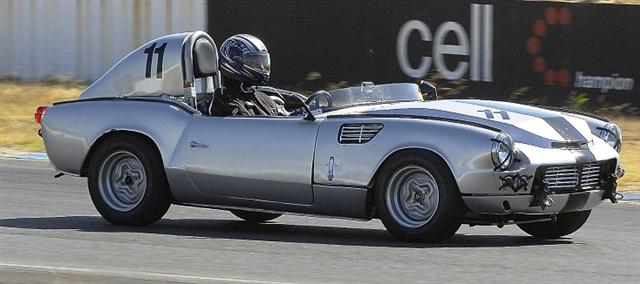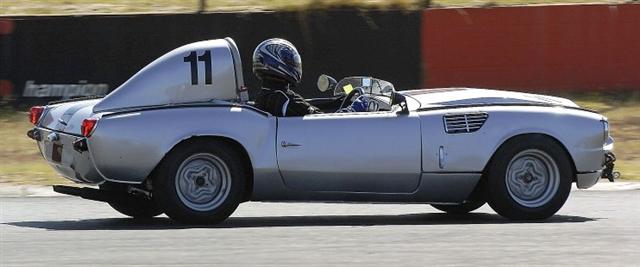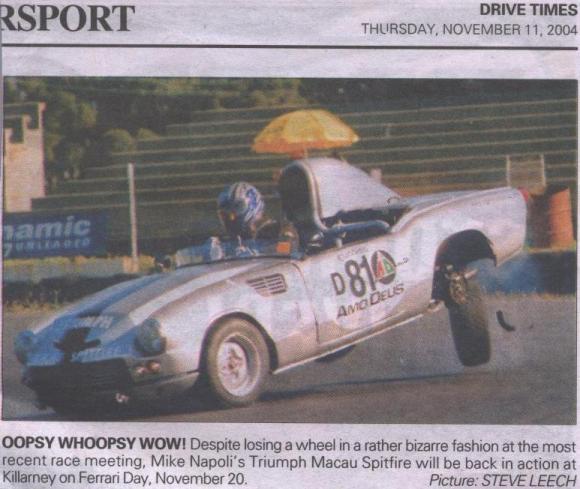 It all goes wrong for Mike (Killarney 2004)