Triumph Spitfire Mk 2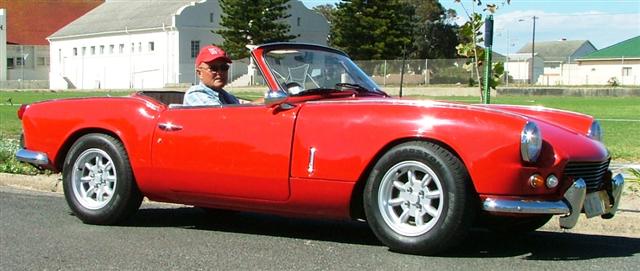 2006 Nationals - Hermanus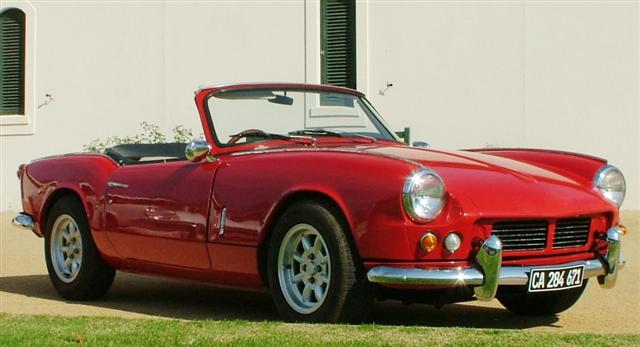 End of month run - Franschhoek Motor Museum, L'Ormarins - May 2008
The car was bought in 2001, but stood in the garage until 2004.
After a bit of hard labour buffing and polishing, the bodywork and colour came up nicely - although my intention is to respray the car at some stage in the future.
To date the carpets have been replaced and the car rewired, however there still appears to be a problem with the park lights, which have gone on the blink. Before 2007, an alternator and new waterpump were fitted.
The car was fairly reliable and used on a regular basis until 2007. Unfortunately on the return trip from the 2007 British Sports Car Run the motor blew, the car was towed home and laid up due to my busy schedule. It was at this stage in the cars life that I decided on an engine transplant. After much searching, a low mileage imported 1500 Nissan motor with a 5 speed gearbox was sourced and purchased.
New engine mountings were fabricated, the gearbox mountings modified and repositioned with a shortened prop shaft, utilising a Nissan universal on the gearbox side. A Nissan radiator with an electic fan were installed for cooling, both having to be moved forward for bonnet clearance. Due to space constraints between the motor and chassis, a remote fitting for the oil filter was also fabricated and installed.
Modifications to date: 
Head has been ported and flowed with a 280 cam.
Carburetion - twin 40 side draughts.
Branch made by BSE Performance.
Suspension lowered with adjustable coilovers, further mods to be completed as I would like to race the car in the South African Fine Car Series.
Period mags - Minilite Replicas
Sports steering wheel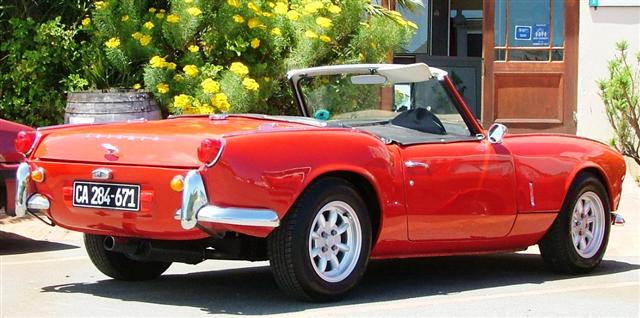 British Sports Car Tour 2007 - Hermanus