Triumph TR6
1971 TR6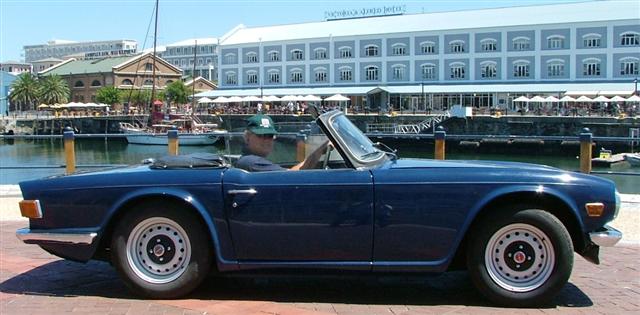 V & A Waterfront
(British Sports Car Tour 2004)
Biography of my 1971 Triumph TR6, 2.5 PI 150 BHP in Saphire Blue
The car was bought in September 1981, this was the second car I had looked at. I went to see it in Sutton, near Croydon, to check it out. The guy selling it and I went for a spin, he gave it quite a bit of welly down one of the main drags. I was impressed by what I saw, and on the verge of becoming airborne, I realised the vehicle was in very good nick, mechanically. It was late in the evening, but I observed there was some rust underneath. This later became a bit of an understatement! It looked OK body wise and the paintwork was good. He was asking £1500 for it and if I remember correctly I offered £1300 because of the rust, this was eagerly accepted!
The next day I went to collect the car and checked for more rust, which was found after prodding through one inner sill, at this point I made a new offer of £1000, but the owner told me to get on my bike or words to that effect! I took a chance and paid for the car. On my way home to Twickenham the lights went out, but I refrained from over reacting and hyperventilating before taking the car back to the seller. Instead I stopped at a garage near Kingston and discovered it was only a fuse playing up.
When opening the bonnet, it was rather intriguing to see the number of pipes and tubes in the engine bay which prompted me to buy the comprehensive workshop manual from Cox & Buckles, now Moss, the rest is now history.
In 1982 I was transferred with my job to Germany, and took the car with me. I drove the car down to Ramsgate and sailed on the ferry over to Vlissingen in Holland. Once in Germany, the car became my daily transport. One day, soon after settling into my new job, I found a card on my windscreen about a local Triumph Car Club, after attending a couple of meetings I became a member. This led to meeting some guys who owned all sorts of British cars and shared a large well equipped garage, it was an Aladdin's cave. We all had our own designated section that we paid rent on, and it was then that I could take the car apart to sort out the rust. After welding/ repairing and getting the car back together on one side, I took a break and drove the car through Europe including France, Spain, Netherlands, Germany and up to Denmark. The most northerly place I parked the car was almost opposite the "Little Mermaid" in Copenhagen. On my return, I finished the rebuild.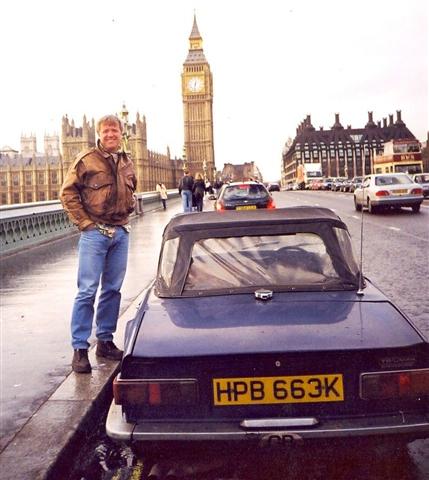 Before shipping the car to South Africa - London 2001
In 2001, the car was shipped to Cape Town from Southampton, the shipment was meant to take 3 weeks, but it ended up taking 3 months. The vessel, appropriately named the "Snowdrift" ended up in Durban and the car had to be sent down to Cape Town by rail. There were plenty of scratches and dents from the long journey, so in 2003 I did the latest major work on it including a respray for good measure.
I have carried out large amounts of fun repairs on the car over the years, but have never had a valve regrind, removed the cylinder head, replaced rings, and it doesn't use any oil! I did fit new shells on the crank though. I also rebuilt the gearbox and overdrive on the recommendation of a fellow Cape Town member who gave me lots of encouragement. I have always believed this was a specialist's job and if it ain't broke don't … The Lucas fuel pump has always been reliable except in hot conditions, so a Bosch pump is now in place under the car. The metering unit has also been very reliable.
I have now owned the car for just over 30 years so please excuse me if I waffle on about it! Several other cars have come and gone, but NOT the SIX.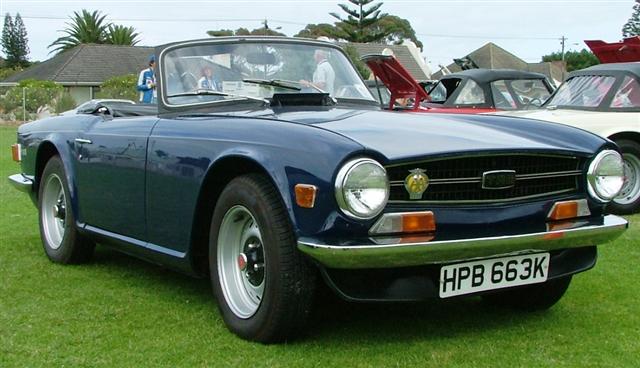 2006 Nationals - Hermanus